The number of available pages is the only indication given to a curator, who is asked to autonomously present a project conceived and designed in collaboration with an artist
CONFLICTED PHONEMES
by Mihnea Mircan and Lawrence Abu Hamdan
In September 2012, a group consisting of linguists, graphic designers, artists, researchers, activists and Somali asylum seekers – whose applications had all been rejected after the analysis of their language, dialect or accent by the Dutch immigration authorities – met to discuss the controversial use of language analysis to determine the origin of asylum seekers.
The collection of maps laid out on the following pages, realized in collaboration with Janna Ullrich, are extracted from a wider series of graphics generated from this intensive two-day discussion.
Since 2001, immigration authorities in Australia, Belgium, Germany, The Netherlands, New Zealand, Sweden, Switzerland and the United Kingdom have turned to forensic speech analysis to determine the validity of asylum claims made by thousands of people without identity documents.
In most circumstances, this work is contracted out to a private Swedish company and a phone interview between this company and the asylum seeker is recorded. The claimant's voice is analyzed to assess whether the voice and accent correlate with the declaration of national origin.
The asylum seeker is often unable to contest the results of the language analysis. These maps intend to offer the rejected applicants a silent protest, at a moment where their voices have been completely objectified. Indirectly, the maps reflect on what hybrid accents say about adaptations of the voice to different social situations, or about a lifetime of migration.
These maps intend to demonstrate how the history of Somalia, its forty years of ungovernability and crisis, have made an impact both on people's way of life, and on their way of speaking. Usually, maps are abstracts, which reduce the complexity of an issue or territory to a digestible form. The density in these maps responds to the complex task of recording the voices and biographies of those who are fleeing from conflict and famine.
The changes in an accent, its borrowed and hybridized phonetic form, are testament not to someone's origins but only to an unstable lifestyle, which is of course common in people seeking asylum, who often spend years living in diversely populated camps along the way to their destination.
Is it not more likely then that a genuine asylum seeker's accent would be an irregular and itinerant concoction of voices, the biography of a journey, rather than an immediately distinguishable sound, a pure voice that avows its unshakable bind to a single place? The fact that, in forensic linguistics, a syllable is understood to designate citizenship more conclusively than an identity card, forces us to rethink how borders are being made perceptible and how configurations of vowels and consonants are being made legally accountable.
Lawrence Abu Hamdan's Aural Contract is an ongoing project, constituted by a series of events, publications, exhibitions, audio compositions, workshops and a sound archive, that investigates the contemporary politics of listening and focuses on the role of the voice in law.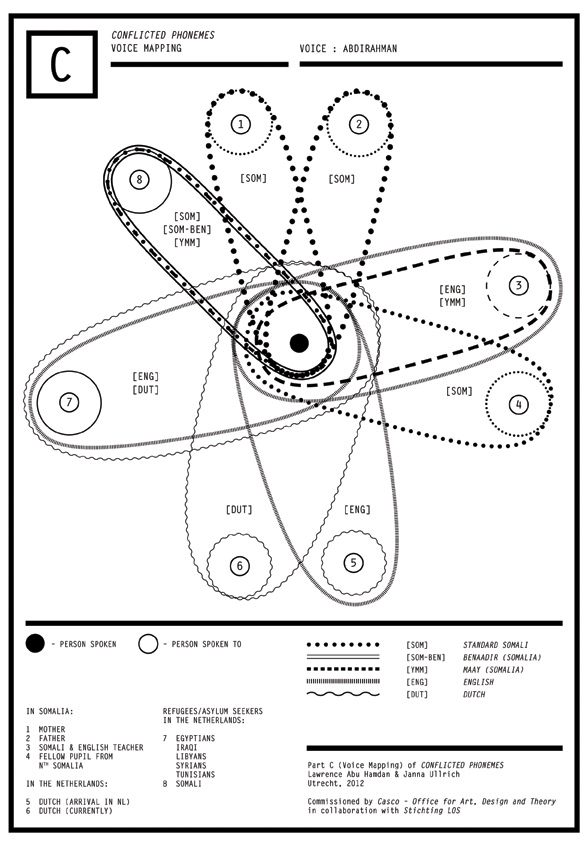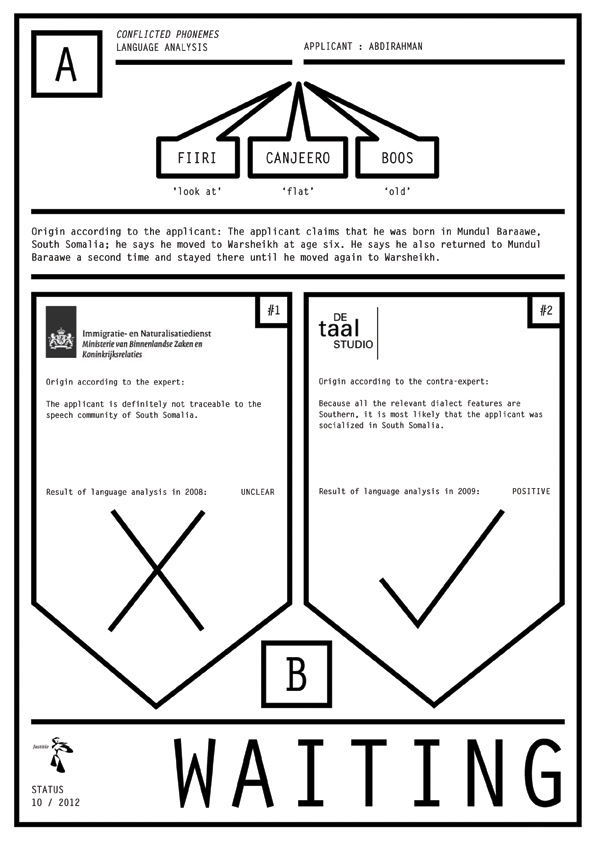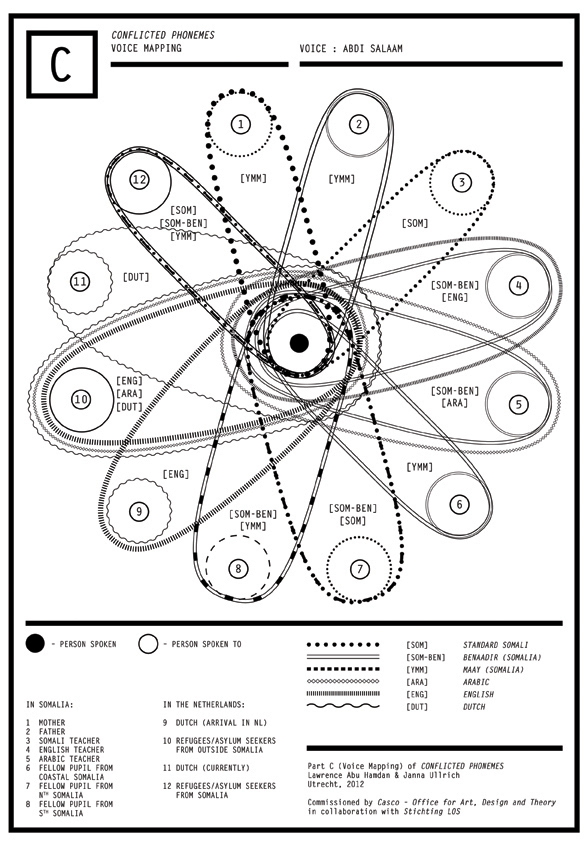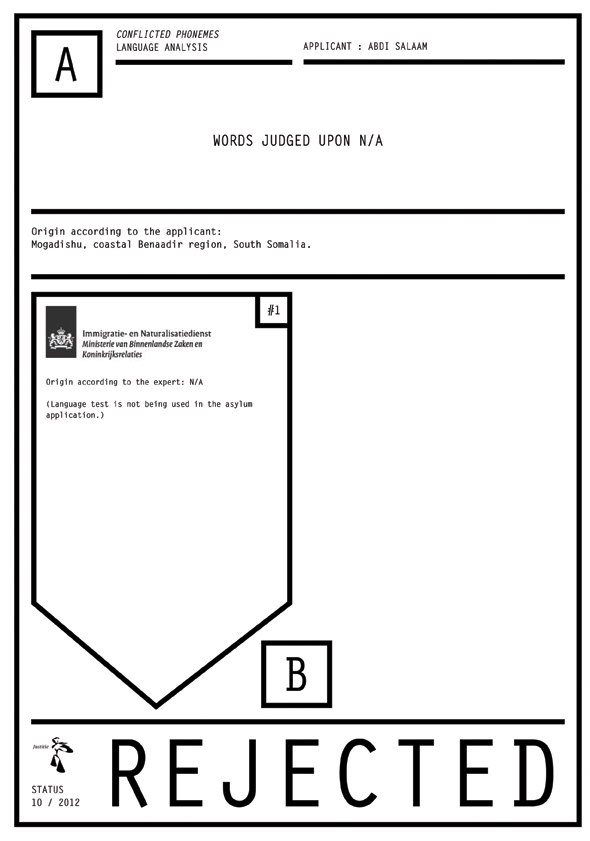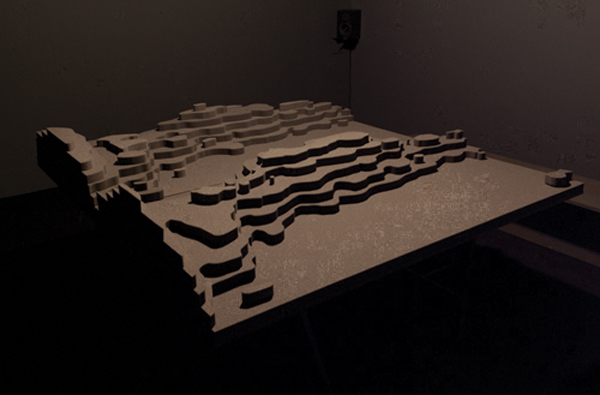 Abu Hamdan's audio documentary on the asylum seeker accent tests, The Freedom of Speech Itself, is presented alongside the sculptural forms of contour voiceprints illustrating the frequency and amplitude of two different voices saying the word "you." The cartographic technique of contours, used to map and identify the origins of phonemes, allows these sculptures to condense Abu Hamdan's argument into a material form that binds together notions of voice and territory. Moreover, the acoustically absorbent foam used in the construction of these sculptures directly intervenes in the audio-space, deadening the room and creating a dialogue between the sculptures and the documentary that seeks to intensify the listening experience.
Mihnea Mircan (1976) is a curator and writer. He is the artistic director of Extra City Kunsthal, Antwerp. From 2005 to 2006 he was curator of Le Pavillon, Palais de Tokyo, Paris. His writing has appeared in magazines such as Mousse and Manifesta Journal. Mircan lives and works in Antwerp.
Lawrence Abu Hamdan (1983) was born in Amman, Jordan and lives in London. His work is mainly concerned with the politics of listening and the relationship between sound and urbanity. He is part of a a collective that runs Batroun Projects, Lebanon and 113 Dalston Lane in London.