RADICAL TRADITION
6 March 2013
Tijana Mamula on the 30th Alternative Film/Video Festival, Belgrade
Every year Belgrade hosts the Alternative Film/Video festival, one of the oldest exhibitions of experimental cinema in Europe. Over the years, experimental filmmaking has interwoven its history with that of other contemporary art forms, such as conceptual art, Op art or storytelling, participating in many of the issues raised by more traditional visual art during the same period. On the other hand, this cinema has always defined itself through a specific field of action, constituting a "radical variant" of classical cinema.This ambiguous standing, which is one of the most intriguing aspects of experimental film in general, emerges very clearly from the long tradition of avant-garde cinema programming in the Balkans. Last December, NERO collaborator – artist and writer – Tijana Mamula was invited by the festival organizers to participate in a research seminar and  had the opportunity to follow the program closely. We asked her to share her perspective on the festival, through this critical report written in collaboration with fellow researchers Nicolas Brulhart, Dirk de Bruyn and Adeena Mey.

Alternative Film/Video Belgrade, 30th Anniversary Edition
by Tijana Mamula
One of the things the Alternative Film/Video Festival shares with many initiatives within this genre is its fragmented history. The festival (originally, Alternative Film) was founded by the Academic Film Center in Belgrade in 1982, and held yearly until 1991. Following an interruption caused by the Balkan wars of the 1990s, it resumed activity in 2002. At its inception, AFV followed on the wave of other experimental festivals in the Balkans – most notably, GEFF (Genre Experimental Film Festival, 1963-1970), which grew out of the meetings of the "Anti-Film and Us," a Yugoslav collective invested in the radical annihilation of conventional film, whose philosophy is perhaps best summarized in Mihovil Pansini's Anti-Film manifesto of 1963.
Positioning itself as a like-minded promoter of experimental and non-narrative film practice, Alternative Film/Video – and its umbrella institution, the Academic Film Center – became instrumental in bringing together, in both space and discourse, a number of important Eastern European avant-garde groups and individual practitioners throughout the 1970s and 80s. This role was further strengthened by the publishing and production activities of the Center, whose archive currently holds over 500 experimental and independent works made throughout its roughly forty-year history.
Today, the festival remains an important, if sadly overlooked, showcase of historical avant-garde production from Eastern Europe – particularly, and much against the grain of the region's recent political history, the former Yugoslav countries – as well as promoting contemporary work by emerging artists culled from a much broader geographical area. These latter works comprise the festival's competition program, which awards the ten best entries with a one-month residency at the Academic Film Center. Viewed within the context of the festival's retrospective programs – and the discussions of them that follow here below – two works stood out for their bearing on the question of the medium-specificity of the filmic avant-garde, whose reluctance to part with the tropes of all things celluloid may be one of the reasons for its continued, or at least perceived, distinction from moving-image based contemporary art. Bolex Mon Amour (2012), by young Viennese artist Daniela Zahlner, is simple, almost ingenuous, in its flirtation with the 16mm camera, but it also stands uneasily between a strangely upbeat swan song and a dreamy exhumation of this – in the artist's own words – "beloved accessory and technical playground of avant-garde cinema." The Bolex camera may be both "the muse and the heroine" of this piece, but it assumes that role with more than a little ambiguity.
On the other end of the spectrum, Rome-based duo Fabio Scacchioli (image) and Vincenzo Core (sound) presented Miss Candace Hilligoss's Flickering Halo (2011), a deeply Tscherkassky-esque flicker film extrapolated from Herk Harvey's cult classic Carnival of Souls. Like Tscherkassky, Scacchioli intervened into his source film to extract the far more abstract tale of "a girl lost in a movie," in an operation that circumvented the Austrian master's punchier and more chaotic aesthetics to construct a near-liner commentary on the graphic motifs and patterns of Carnival of Souls. Unlike Tscherkassy, however, he didn't spend three years lasering, cutting and collaging bits of celluloid, but used a digital editing suite to manipulate an .avi downloaded directly from the internet. A fact that further evidences some of the paradoxes in the relation between contemporary filmic experimentation and the celluloid support that traditionally enabled and structured it.
http://www.vimeo.com/27329474
Here below, Nicolas Brulhart and Adeena Mey reflect on the significance of the festival's capacity to destabilize our Western-centric perspectives on the history of the audiovisual avant-garde and its traces in the present, while also affirming another crucial and under-commented aspect of the institutional and discursive contextualization of non-narrative cinema: namely, the productive resistance of many of these works to occupying a firm spot on the continuum between conceptual art and experimental filmmaking. Dirk de Bruyn instead examines, among other things, the messy confines between author and exhibitor, and the potent role of self-reflexive curating in the contemporary presentation of long-archived works.
Not(e) on the Map
by Nicolas Brulhart and Adeena Mey
While the Palais de Tokyo in Paris saw the last days of East Side Stories, a program entirely devoted to contemporary Croatian videos, in Belgrade, a few miles west of Tokyo Japan, the Alternative Film/Video Festival reiterated its invitation to decenter our gaze from the Euro-American canons of experimental moving image practices and their histories. Besides the official selection of experimental shorts, the festival featured several, dense, programs of rarely screened films and videos from Serbia, Slovenia, Croatia, Hungary and more.
If historically, during the Socialist Republic of Yugoslavia, the East-West division was assumed by artists themselves so as to enable appropriation of Western influences and inscribe art practice within a modernist paradigm, a visit to AFV in 2012 made a singular case for how one should go beyond simplistic discourses of globalization and homogenization. In this regard, what was particularly compelling was the way the works presented at the festival easily straddled the art vs. film divide, evidencing a history of avant-garde practices less concerned with this modernist distinction, so pivotal in the West. Indeed, what we got to see were films that affirmed a blurred boundary between conceptual art activities and experimental film.
This was well illustrated by the program devoted to the films of the Ljubljana-based Davorin Marc, titled S Prstom v oko (With the finger in the eye). In a body of work which boasts around 150 8mm and 16mm films, Marc often appears as himself, among his friends, in situations that reside somewhere between the banality of daily life and the kinds of feelings provoked by a suffering organism.
Tenderness appears as an answer to fatality as the process of the film in its making reveals itself to the viewer. Indeed, what Marc seeks to address is the latter's complicity in the act of watching, while his modest creations are progressively penetrated by kinky puns, testifying to a subtle definition of the cinematic that seemingly emerges out of nothingness. In such programs, which feature films that are shot on celluloid and whose dates of production sometimes span over thirty years, discussing film by way of the dialectic of old and new media would not be satisfying (although the contemporaneity of such gestures certainly was an issue that arose). The relevance of such works, presented in this precise context, seems to reside less in the articulation of a mediated relationship between media and viewer – leading to the latter's dispossession – than in the establishment of a sense of direct contact: the actual stake, in these programs, seemed to lie in the possibility of building ephemeral communities.
Some of the intertwining, in independent filmmaking, between the aesthetic and the political – which might indeed be where the contemporary relevance of shooting in 8mm or 16mm lies today – was investigated by the Athens-based independent laboratory LabA. Having already processed films throughout the Balkans in 2009, including a segment on a train between Sarajevo and Budapest, LabA founder Vassily Bourikas and fellow Fanis Dalezios took residence at AFV to convene a Super8 and 16mm workshop, setting up a DIY lab in a hidden room of the festival.
With the exception of a few experienced filmmakers (David Kidman, Davorin Marc and Sebesteyen Kodolanyi), the lab was mostly attended by people who had no experience in filmmaking: "They had never filmed, processed, edited or projected." This resulted in a whole program on the last day of AFV. Yet, if the screening was "séanced," it was also a means to exceed this very format. For instance, the audience was asked to hold meters of reel, still in the process of drying, before it was projected. The kind of activism advocated by Bourikas and LabA raises several issues. First, if celluloid in the art world equates rarity of a medium with an economy based on the production of unique or serial commodities, without denying the increasing difficulty of working with actual film, what LabA's methodology suggested is that it is a medium open to the multiple productions of a community, without the need of traditional mediations. Also, against the division of labor implied by the output of a conventional filmic event, LabA's workshop and screening managed to articulate a more horizontal model, which was actually only one crystallized moment in an open process. Moreover, developing celluloid on a train and projecting in a station acted as a manifesto: no place is needed to make and show films, thus opposing a logic of constant de-territorialization to the territorialization of the art market and its spaces.
Finally, at the pace of 5 days a year, what AFV manages to do is to create such suspended temporalities. At a time when we are witnessing a renewed interest from the art world in experimental and avant-garde histories, as well as their (re)institutionalization, it invites us to reconsider their forgotten and grey zones. And by offering a space to present and discuss work that keeps challenging our viewing habits, away from the more commodified sensible experiences of white cubes, it is perhaps the potential for change ushered by the Avant-Gardes that is reactivated.
Two Artists
by Dirk de Bruyn
Slobodan Valentincic's curated program, "Our Eyes are in Excellent Condition," gleaned from his Slovenian OM Archive of 8mm, super 8 and 16mm films with such titles as "The Dislocated Third Eye Series," surfs a gap between trauma and nirvana, myth-making and the present, speaking as much of our current technological situation as the 1977-87 period spawning it.
OM works exist only on film and the Archivist Valentincic turns each presentation into a unique event, mediated by the quality of the projection equipment available. Though cloistered outside the digital the implication that each projection is different suggests or responds to digital's ability for unending malleability, metamorphosis and permutation. If you wait long enough there is always another version.
Olaf Möller has noted "all these works are by Slobodan Valentincic: it is hard to imagine that even in large Yugoslavia, dozens of geniuses with fanciful names wanted to make only one movie." There is such a cohesive perceptual argument registered in this archive that each film as fragment slots into. It is this OM Archive that is the cohesive whole. As the program notes point out: "The identities of the individual members of the conglomerate remain shrouded in the haze of unverifiable hearsay and innuendo." The multiple personalities with which Valentincic has infused his archive puts Flora Schreiber's Sybil (1973) to shame.
Is Valentincic's fractured curatorial maneuver to be read philosophically and aesthetically, as commentary on a former Tito-led Yugoslavia? Does he perform here in aesthetic form the existential and political realities of living in its self-contained fragments, of which Serbia is one?
What also registers in the shadow of Valentincic's archival frame is the dramatic explosion of digital and video works whose pervasiveness have brought the notion of the archive and curator to prominence. The true owner, compiler and editor of public screens is now the curator, who claims processions of aspiring artists' works, spitting back out long lists of winners and losers, discarded at will in ever accelerating cycles of ideas and style. In this situation Valentincic's camouflage does enough to inoculate his oeuvre against such pedophilic madness.
The final moments of this program stay with me as Valentincic places himself physically up on the screen, framed inside of Dislocated Third Eye Series – Bismillah, by Sulejman Ferencak.
Dislocated Third Eye Series – Bismillah is a series of blurred, stretched and streaking imagery, shot on super 8, in a mountainous landscape, the camera repeatedly whirling like a dervisher, creating a compacted workingman's version of Michael Snow's La Région Centrale (1971).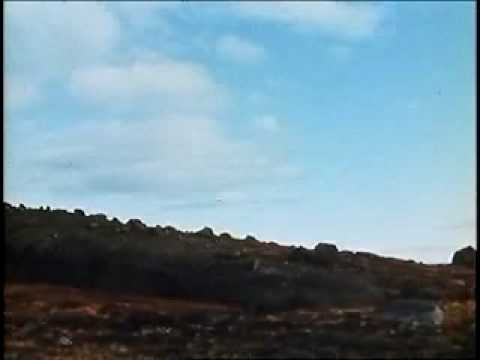 Whereas Snow moves from a point of surveillance and robotic mastery of his landscape, Valentincic swims immersed, tossing and turning in a pre-dream state of rapid eye movement. Now and then you see a tripod, a body jumping, the cameraman is spinning his tripod around like a shot-put that never takes off, with a camera at the end of it. You get such moments in surf movies, when the surfer crashes, bubbles and swirls all around inside the wave, with the surfboard glanced in a frame or two now and again. Bismillah sits inside a spinning top, a field of tension linking mobility and stasis. Dziga Vertov would be mesmerized. The body holds centre stage. The dance's persistence communicates an artist on top of their game, pushing an envelope of technique completely new to me but strangely familiar in its unerring commitment to a cinema from the margins, a cinema without costs; a cinema for which you pay with your life. I respect the heart and mind unraveling this work and the invention of an unexpected marginal and slippery corner of technique. What builds is an artist pushing the landscape, simultaneously shrugging it off and wrapping himself inside it. This unstable relationship is re-iterated by its screening framework, the OM archive as cocoon inside which Valentincic cloaks this work. Or, the other way around, the Bismillah's cinematic blurs and streaks are the OM Archive's "unverifiable hearsay and innuendo" performed and rendered materially present.
Layers inside layers, wheels within wheels, like the first locomotive, like the first clock. Writing with the continuous movement of this blur, rush and haze is essential to cinema's birth, expressing those skills required to read the landscape out of the moving train. There are traces of such streaks in Robert Breer's rotoscoped images in Fuji (1974), shot from a window inside a Japanese bullet train of the landscape outside. There it is a straight line, a metaphor of the mobility that technology brings. Here it is a circle, a point in the landscape. This difference reminds me of the story I was told after one of the festival's screenings, about an 80-year-old Serbian intellectual who had lived in at least five different countries during his lifetime by remaining in the same house his whole life.
And in the end Valentincic nails himself to the screen, riding this film's wave, reminding me of the legendary ghost ship, The Flying Dutchman, destined never to make shore, with Valentincic tied to its mast. It too was a visual illusion, one that sailors read as a portent of doom in the storm.
The Serbian film artist, Ljubomir Šimunic's Pression (1970-1975), 24 min and Gerdy, the Naughty Witch (1973-76) 16 min, shown on the final night of the festival as part of a retrospective of his work, were both films that stayed with me. I can't say I haven't seen such layered double and triple exposures before, bits of movies, faces, informal every day scenes and black and white cinema segments gleaned from the TV, street lights, neon signs sampled from city streets and other informal images. In my city of Melbourne I usually saw such imagery at open screenings of the Melbourne super 8 group in the 80s. The musical soundtrack extracted from popular culture was also familiar to me, part of my history of commercial radio listening. It was the way the eye moved over these layers of movement that had its own character and rhythm. A Situationist might refer to these films as recording visual dérives.
It interests me that these films were layered and structured on the run, edited in the camera, a kind of stretched-out form of automatic writing, recording, tattooing the city's skin onto your own body. Šimunic was writing these songs in his camera over 3-5 year periods and keeping this undeveloped work in his fridge over this time so that the film would not spoil before processing. The habit of taking the camera out had to be strong. This work resonates in other ways from merely recording the Spectacle as it is embedded in the Everyday from a different corner of the world than I am used to. Šimunic tattoos Beograd onto your eye, triggering your eyes to sing this archeology of fleeting gestures once again. Šimunic's repetitive habitual gathering builds a performative history of the city, a compacted time capsule sampling daily life. He constructs and performs a way of seeing that the mobility of the city taxi-cab brought to everyday life. In these films Beograd's city skin becomes your skin.
Today the mobile phone and camera and the app explosion entices us all to become Šimunic's in our cities, if only we had time. Such layering of imagery no longer requires a taxi cab for speed-up or patience and an understanding for in-camera techniques has metamorphosed into brand and shopping choice. The speed and mobility readily available in the flickering screens that pepper our cities creates a preponderance of what Vilem Flusser calls "Technical Images":
"The technical images currently all around us are in the process of magically re-structuring our 'reality' and turning it into a 'global image scenario.' Essentially this is a question of 'amnesia.' Human beings forget that they created the images in order to orientate themselves in the world. Since they are no longer able to decode them, their lives become a function of their own images: Imagination has turned to hallucination." (Flusser, Towards a Philosophy of Photography, 10)
The recent history oozing out of Šimunic's city films provide a welcome respite from Flusser's amnesia.
Nichola Brulhart is a researcher at the University of Lausanne, and co-runner of the art space WallRiss in Fribourg.
Adeena Mey is a critic and researcher at ECAL/Lausanne University of Art and Design.
Dirk de Bruyn teaches animation at Deakin University in Australia and has been making experimental films for nearly 40 years.