Dreams never end
7 December 2012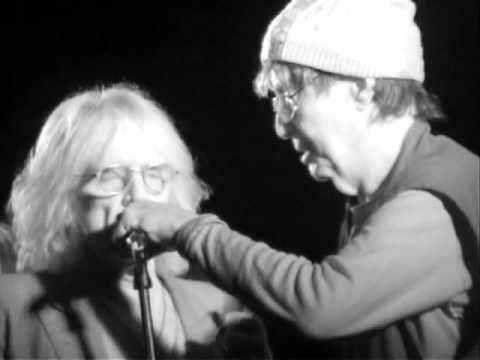 Alan Vega sings Dream Baby Dream with Christophe in Paris
Here you have a private document of the Alan Vega concert that took place last October at La Gaîté Lyrique in Paris. We are not sharing this with you because of the unquestionable relevance of Vega's figure in contemporary culture: and we won't try to connect that particular moment to the character of the FIAC!, the art fair that was going on in those days, with its customary load of openings and dull social gatherings.
What we want to show here is how brutally, and coherently, reality just bursts into any fiction and unmasks any act, ultimately questioning any displayed imagery.
In short, this is what happened.
We had pictured something more intimate but the gig was staged in some theatre that could have been appropriate for a music festival. Nevertheless the sound was bad and you could hear the audience chat all the time, as if the show were not coming up to its expectations.
By the sides of the stage a guy (his name was Marc Hurtado) and a woman with a kid played the music while Alan Vega was sitting in the middle, almost still, sometimes waving his walking stick in the air. On his knees he had some sheets he read the lyrics from.
At some point the sheets fell to the ground and the woman left her place. She picked up the sheets and passed them back to Vega: she stood by him for a moment and caressed his skinny shoulder in a gentle but quite blatant way.
Vega himself seemed to be feeling out of sight and the whole thing appeared unwillingly written.
Towards the end the stage emptied. The audience encored Vega and eventually someone showed up. It wasn't him, but a mysterious man supposedly in his sixties with long white hair. He wore some old fashioned sunglasses and he had a handkerchief in the breast pocket of his suit. He drew out his harmonica and started singing Suicide's Dream Baby Dream. A friend who lived in France told us he was chansonnier and French rock'n'roll living legend Christophe.
What we witnessed straight afterwards was no longer a show, but the melancholy praise of a way of life that made history and inspired generations.
Video by Michele Manfellotto, words by Valerio Mannucci